The MBT principle
Masai Sensor

The soft Masai sensor is the heart of Masai Barefoot Technology. It creates a pleasant feeling when stepping on and at the same time provokes instability to which the body reacts with muscular activity. If the Masai sensor touches the ground, the sensorimotor system is stimulated. A kinetic chain of reactions is triggered, which helps to stabilize the muscular skeletal system in all directions. This represents an increased training-effective stimulus for the athlete and is the basis for increased performance.
Midsole with balancing area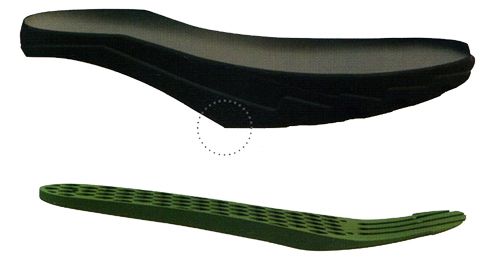 The balancing area is the starting point for many sport-specific exercises and increases the coordination requirements of the exercises. While walking, the foot is unrolled slowly and in a controlled manner. The deep-lying stabilizing muscles are activated in order to stabilize the joint axes and the individual body sections during the movement. The coordinative abilities of the athlete, as well as the interaction of the muscles during the rolling process, as well as in balance, are required to a high degree.
Shank
​

​The shank ensures the necessary strength of the sole construction and thus ensures a natural rolling movement of the foot with every step. In addition, the Shank ensures optimal pressure distribution over the entire sole of the foot during rolling, during coordinative exercises and during jumps.
The sole technology provokes a three-dimensional instability, both in the forwards-backwards direction and in the sideways direction.
The instability increases the activity of the lateral ankle stabilizers.